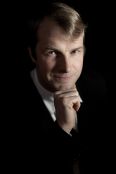 Francis Jacob
---
Profile
Francis Jacob is the founder of the "Friends of the Organ" at Saessolsheim, a community of five hundred inhabitants. He teaches organ and "figured bass" at the nearby Strassbourg Conservatory. In 1995, thanks to the hard work and enthusiasm of the "Friends of the Organ", a thirty Rank organ, constructed by Bernard Aubertin, was installed in the church.
There followed a series of Organ concerts, Organ workshops, as well as more ambitious projects such as the performance of the Bach Mass in b minor, directed by Gil Angli from Geneva.
Thanks to M. Jacob, this organ continues to be the focal point for a rich and diverse series of musical concerts, drawing performers from around the world.
Francis Jacob is also an organ builder. He works closely with Bernard Aubertin on varied projects, one of which was the Aubertin organ installed in the Auditoire Calvin.
Francis Jacob has returned to the Auditoire several times not only to tune the organ but more importantly, to perform in the Organ Festivals that started in 2015.
Francis Jacob is an exceptional friend to the AOA committee in that he has continued to support the activities of this group.
AOA Festivals
Click a flyer image below to see details of the programs, other artists and related media :
E-mail & Links
Francis Jacob le site : www.francisjacoblesite.wordpress.com
Association des amis de l'orgue de Saessolsheim : www.asamos.org


---