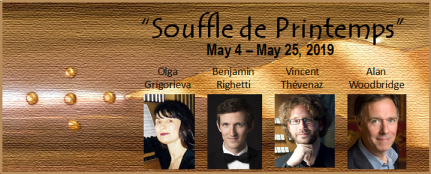 ---
2019 Organ Festival
---
"Souffle de Printemps"
May 2019
AOA Spring Organ Concert Series
Auditoire Calvin
Geneva
---
.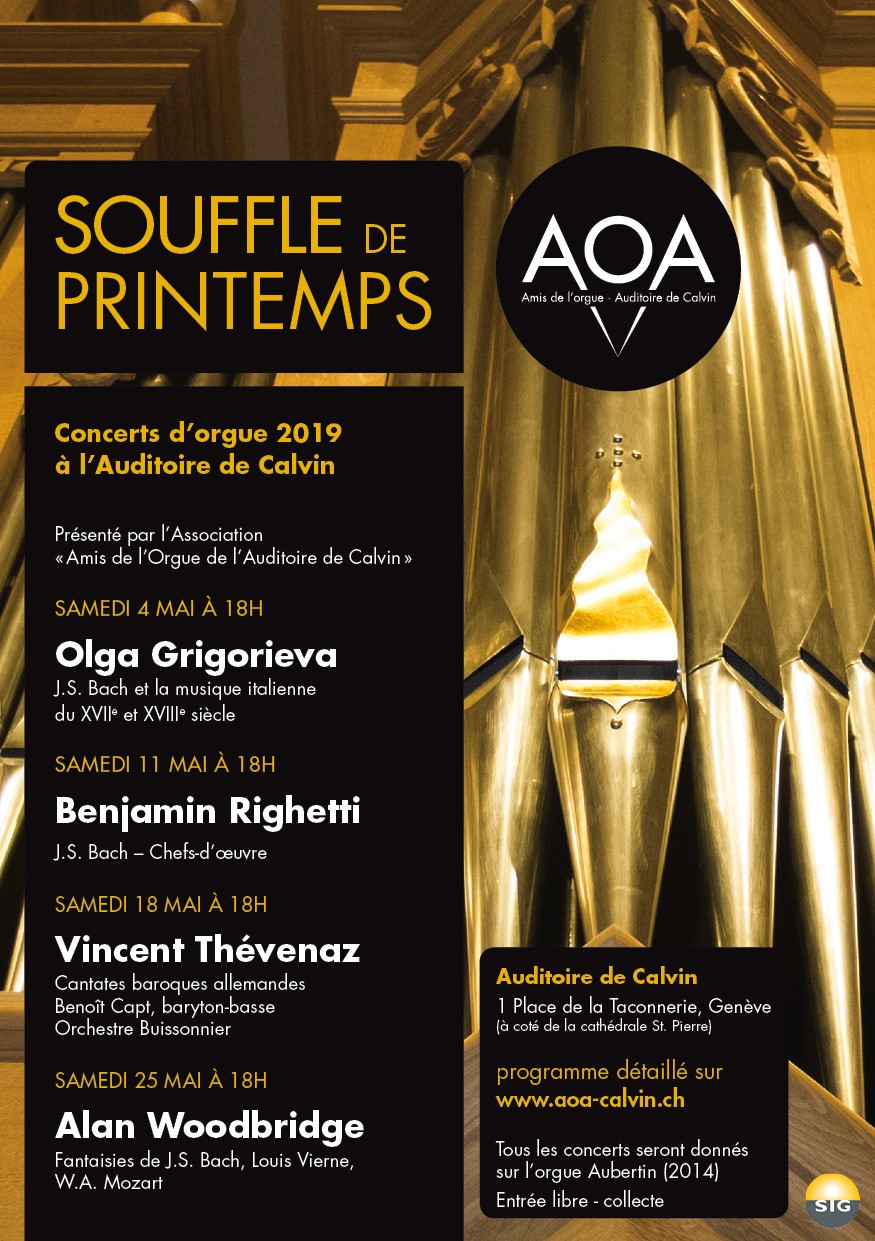 The Organ Festival "Breath of Spring" promises to be an exciting event. The four organists come from varied backgrounds and will present diverse organ works.
The first artist, of Russian origin, is Olga Grigorieva. She studied with Lionel Rogg at the Geneva Conservatory and is now Titular Organist at the Grand Saconnex Church in Geneva.
Benjamin Righetti, our second artist, is Titular Organist at the St. Francois Church in Lausanne. He is Professor of Organ at the Lausanne University of Music (HEMU).
Vincent Thévenaz , also a professor of organ and improvisation, but at the HES in Geneva, is the Titular Organist and Carilloneur at St. Peter's Cathedral in Geneva.
Alan Woodbridge studied organ in Great Britain and has concertized there, as well as in France and Switzerland. He is also involved in theater productions and directs Choirs for the Opera Houses in Geneva and in Lyon.
All concerts will take place on Saturday evenings at 6P.M. The dates for this year's Festival are:
May 4th - Olga Grigorieva
May 11th - Benjamin Righetti
May 18th - Vincent Thévenaz
May 25 - Alan Woodbridge
Free Entrance with a Collection at the end of the Concert
Click here to download your poster
---
Programs
Saturday May 4, 2019 at 6pm
Girolamo Frescobaldi (1583-1643)
Toccata Prima
Toccata per l'Elevazione
Johann Sebastian Bach (1685-1750)
Deux chorals :
Fughetta super : "Dies Sind Die Heilgen Zehn Gebot" BWV 679
"Dies Sind Die Heilgen Zehn Gebot" BWV 678
Giovanni Battista Martini (1706-1784)
Elevazione
Sonata
Johann Sebastian Bach
Choral :
Jesus Christus unser Heiland BWW 665
Anonyme Italien (XVIIIe s.)
Sonata (Introduction - Allegro)
Johann Sebastian Bach
Partite diverse sopra : Sei gegrußet, Jesu gütig BWV 768
(Click here to download this program)
---
Saturday May 11, 2019 6pm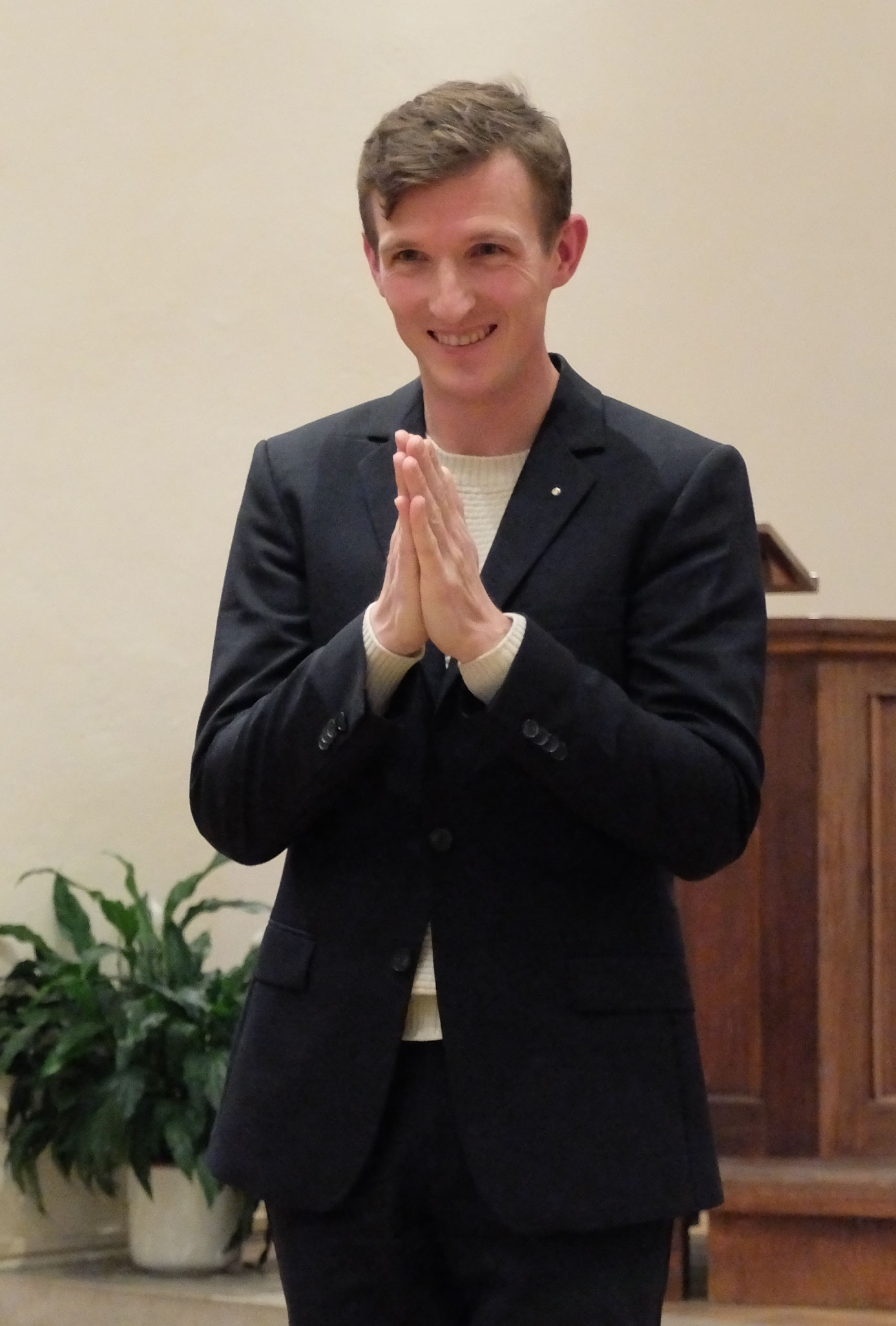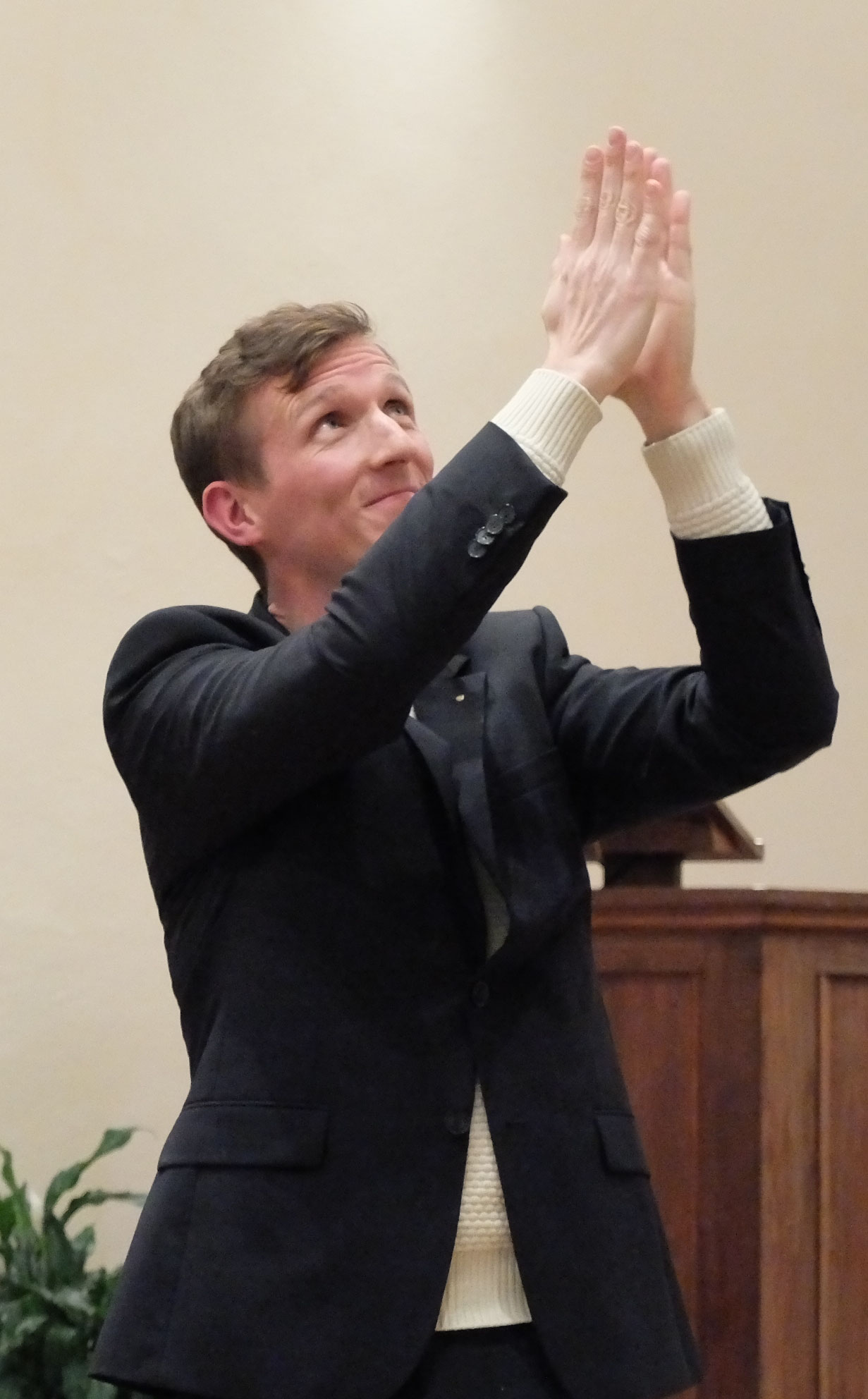 J. S. Bach Masterpieces
Praeludium in c moll, BWV 546/1
"Christ unser Herr zum Jordan kam", BWV 684
5.Triosonate in C dur, BWV 529
I. Allegro
II. Largo
III. Allegro
"Vater unser im Himmelreich" , BWV 682
6.Triosonate in G dur, BWV 530
I. Vivace
II. Lento
III. Allegro
"Christ lag in Todesbanden" de G. Liardon et extraits de la cantate BWV 4
Fuga in c moll BWV, 546/2
---
Saturday May 18, 2019 at 6pm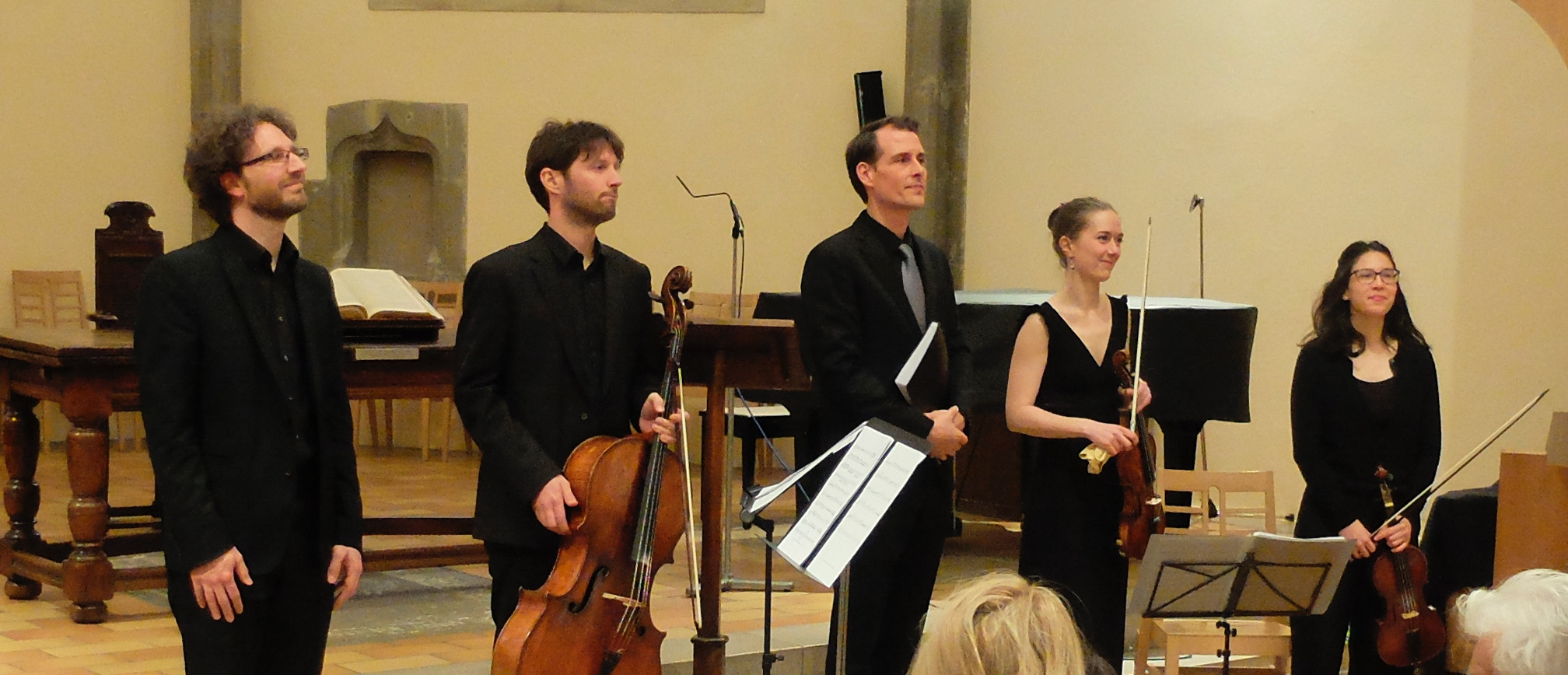 Benoît Capt, baritone-bass
Wendy Ghysels, violin
Nathalie Verdon, violin
Florestan Darbellay, cello
Vincent Thévenaz, organ
Abendmusik
Nicolaus Bruhns De profundis clamavi
Dietrich Buxtehude Passacaglia en ré mineur BuxWV 161 (orgue seul)
Heinrich Ignaz Franz von Biber Nisi Dominus aedificaverit domus
Johann Rosenmüller Sonata quinta a 2 violini & viola
Franz Tunder O Jesu dulcissime
Franz Tunder Herr Gott, dich loben wir, Choralfantasie (orgue seul)
Dietrich Buxtehude Mein Herz ist bereit, cantate BuxWV 73
(Click here to download this program)
---
Saturday May 25, 2019 6pm
«Fantasies»
de J.S. Bach, Louis Vierne, W.A. Mozart
Johann Sebastian Bach
Fantasia et fugue en sol mineur, BWV 542
3 Préludes de Choral :
Wachet auf, ruft uns die Stimme BWV 645
Ach bleib bei uns, Herr Jesu Christ, BWV 649
Jesus Christus, unser Heiland, BWV 688
Louis Vierne
3 Pièces de Fantasie :
Choral
Impromptu
Berceuse
Wolfgang Amadeus Mozart
Fantasia en fa mineur, K.608

---
Photo Gallery
Photos by Charles Revkin
Saturday May 4, 2019
Saturday May 11, 2019
Saturday May 18, 2019
Saturday May 25, 2019
---
---